Back to School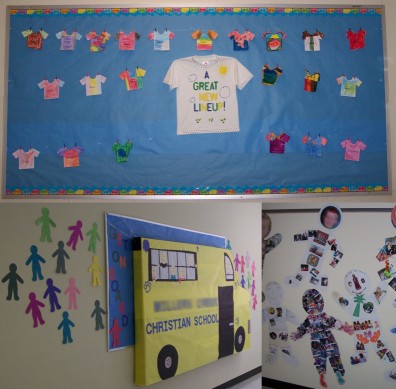 Back to school needs to be as fun as it can be for the students.
On the top picture you see a picture titled "A Great New Lineup". This is painted on a child's white t-shirt along with the sun and some clouds. We strung up 'clothes line' using fishing line. We copied the outline of a shirt and hung up a shirt on the clothes line for each student in the class. On the first day of school they each got a shirt to decorate and it was put back on the clothes line.
Alternate idea: You could always buy packs of t-shirts for infants at your local Walmart
and hang them up. Go to the crafts department and pick up some fabric paint and have them decorate a real t-shirt. You can hold on to the shirt for the end of the year to put with or on the end of the year gift you get the students. Let's say you can buy stuffed teddy bears in bulk, maybe through Oriental Trading, at a good price.
The back to school picture on the bottom left is titled 'Get on Board'. The bus is a white board box. One of the assistants rounded the corner to make it look like where the windshield would be. Covered it with yellow bulletin board paper and decorated to look like a school bus. We used our Accucut die cutter to make the letters and the figures of children.
Alternate idea: Using the same idea as the shirts above, cut out the figures using white construction paper and have each student design their own. Then each class could take out their own 'students' to hang by the bus.
The bottom right picture was used at the beginning of the year. Each child was given a cut out of a figure which was around two feet. That child decorated the face and on the rest of the body they glued pictures of things that meant something to them. It was a great way to learn the personality of the student. If you want to use this idea as a back to school idea then you can give out the figures at open house and tell them to have it ready for the first day of school. It might be a good idea to make one up for a display.






Leave the back to school page and return to the themes page.