The Key to Heaven Hung on a Nail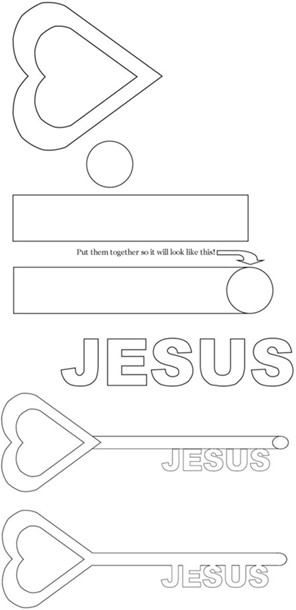 I found this key phrase on www.signsermons.com where I look for sayings to use at my church. One day I ran across this saying and I immediately started thinking about how to use it for our Easter bulletin board.
Do all of the following steps to get everything ready for the kids to do the rest. On the day we had them do this our Bible time was about asking Jesus into your heart and how he is the only way to heaven.
First I cut out the letters in both green and black using our Accucut machine.
Second I went to the computer and used my photo editor, I happen to like Microsoft Digital Image Suite, and used it to make the key template. (I haven't worked much with Paint but you can probably use it for this) You can make this whole project on one work area but I used three so it would be easier to keep the steps apart.
I started with the heart end by selecting 'insert shape' and chose the heart. Then I right clicked on it and chose copy, then paste to make another heart. Resize one of the hearts so that it's smaller than the other. This will be a judgment call from you because you may want the key to look like it's thicker than I made it. I then 'flatten all objects' so that it is now one piece. Leave this piece alone for now and we'll start working on the 'stem' next.
Opening a new work area, 'insert' a square, stretch it out to whatever length and thickness will work with the heart. Don't worry about it being the correct size right now because you will be able to adjust it in a little while. Next 'insert' a circle and drag it to the opposite end of the 'stem' then you will be placing your 'heart ring' at. This needs to be adjusted to the end so that you cannot tell that it was two pieces. Then 'flatten all objects' so that it is now one piece. Again we will leave this alone and work on the last piece of the key.
Open a third window and 'insert' a text. Type in the name JESUS (in caps) and change the font until you find what you like. Depending on how the font looks then you might want to bold it. I chose Arial Black, size 72, I gave it an outline using black and it changed the font color to white so I now have letters that can be colored in.
At this point you can open a new window or just work in one of the three we just did. I saved the stages so it was just easier for me to open a new page to work in. If you look in the picture you can see how I took each stage and put them together. After I put them together I 'erased' the unwanted lines in my editor but you can always print it out and use that ever popular White Out. This final piece is what you will be copying for the kids to color/decorate. The inside of the heart was used for their name.
Use the same template for the big key. I zoomed the copier to print it as large as I could using two sheets of black construction paper. After you copy both ends, using the same size zoom, then cut them out. You will find that you can now make the 'stem' of the key to be any length you want it to be.
I used a light gray sheet of construction paper to cut out the nail, I just cut how I thought it would look.
I then picked out the background paper and laid it on the floor. I put the key down approximately where I wanted it, figured out where the nail would have to be and put a small dot on each side of the nail below it's 'head'. I removed the nail and key and made a slit in the paper between the tow dots I just made. Put the nail in and make sure that it will not slip through or that you have made the slit long enough. If you want to make sure that the slit does not rip, put tape at both ends on the back side.
Just think now that you've done all these steps, the only thing you need to do next time is make copies.
Now it's time to get it on the wall… I think you can handle that one:)




Leave the Key to Heaven and return to the miscellaneous page.