God's Little Snow Angels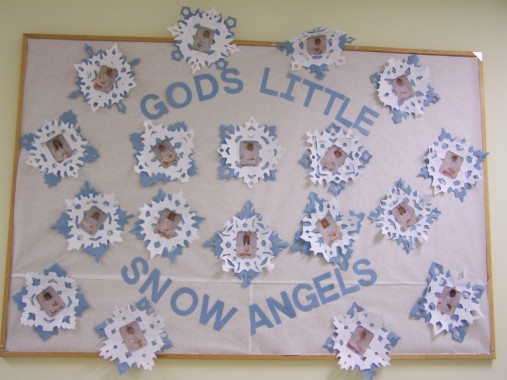 Our snow angels were the creative idea of one of our pre-school teachers. She made a scene in the corner of the room. A white background, probably a bed sheet draped over something and fluffed out so it didn't hang straight down. An angel outfit was put over the child's head, their shoes taken off, wings and halo added and they sat cross legged, with their hands in their lap, on the floor.
Each picture was cropped on the computer to show only the child and they were all print out on the same size paper.
Using blue construction paper a snow flake was made for each child. Now to make the white one you have to cut into it the rectangle for the picture to show through. If you look at the picture I've made it shows you the stages I used to cut out the middle. The edges of course need to be somewhat different cause no to snowflakes are alike.
This is an adorable bulletin board. I think it would look great on a dark blue background. For the letters use both white and light blue, experiment to see which one looks better on top against the dark blue background.








Leave the snow angels page and return to the seasonal page.