Ablaze with Praise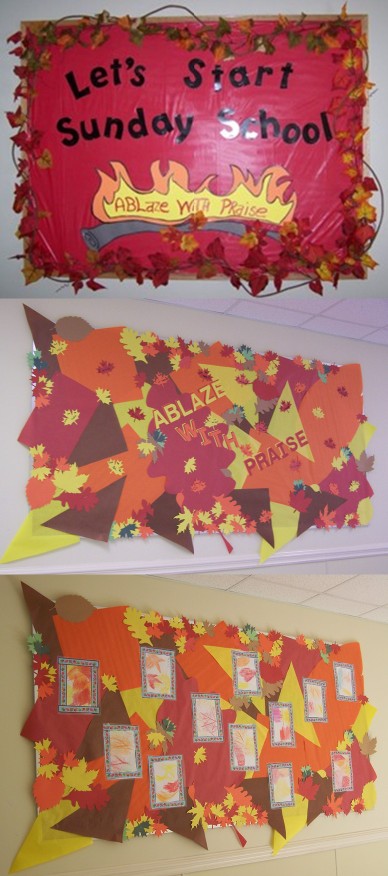 I saw a bulletin board at church that said 'Let's start Sunday School Ablaze with Praise' and it sparked an idea for the bulletin board I needed to do at school.
Now, how do I adapt it to a school bulletin board. I got to thinking about the fire, did I need one? No think I could use something else. Then I thought of the fall colors that were beginning to emerge and thought of how bright they were, setting the trees 'ablaze' with color. Now I had and idea for the background. I took sheets in different sizes and fall colors and cut them randomly. I copied leaf clipart of different shapes and sizes onto colored construction paper and cut them out. On the leaves we made with the die cut machine we had each student write down what they would praise God for. Then we put up all their praise on the board. I used three colors for the words and each word had a different set of colors for the layers.
Since it was still fall when it was time for the next board to go up, the background stayed up. This would have been a good background through the Thanksgiving season.
As you can see one board can lead to another and another, just keep your mind open and the ideas will just keep popping into your head.








Leave the ablaze page and return to the seasonal page.